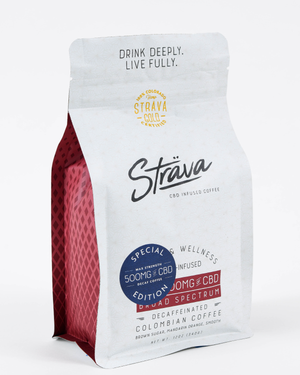 Description

You asked for it and we listened. Sträva's Special Edition* Max Strength decaf option, with 20mg CBD per serving, offers the same great taste as our Intro Strength decaf but with significantly more CBD to help you get maximum benefit from each cup. This decaf coffee is sugarcane processed to remove the caffeine; the result is a naturally sweet and full-bodied coffee that helps you unwind from a busy day. *Note: Our Special Edition Max Strength beans and kcups don't have their own custom packaging yet so we're identifying them with a blue "Special Edition" label.

Tasting Notes & Ingredients

Sträva's decaffeinated coffee is full-bodied and smooth with tasting notes of brown sugar and mandarin orange. Ingredients: 100% Specialty Grade Colombian Arabica Coffee, Organic Broad-Spectrum Hemp Extract. Decaffeinated via Swiss Water or Natural Sugarcane Decaffeination Processes.

Independent Lab Verified

Sträva CBD coffee products are verified by independent labs and tested to be free from heavy metals, pesticides and mycotoxins. Additionally, each product master batch undergoes potency testing for cannabinoid content to ensure every product delivers consistent and accurate CBD content.
View/Download Current Report
CBD Coffee - Special Edition 20mg CBD/Serving - Decaf
20mg Broad Spectrum Hemp (CBD, CBG +) per Serving
12oz Bag | 25 Servings per Bag | Whole Bean or Ground
Decaf Coffee
Enjoy the fresh, bold taste of Sträva: craft roasted coffee precision infused with organic, broad spectrum hemp cannabinoids including natural CBD, CBG and more.
Max Strength Decaf, with 20mg CBD/Serving, is a customer favorite, and the go-to choice for those looking to get the most benefit out of each cup of CBD coffee.

Each 12oz bag makes 25 servings of coffee.

Key Benefits:
CBD works with your body's endocannabinoid system to naturally promote homeostasis and overall physical and mental well-being.

In addition to great taste, common benefits may include: feeling calm and less anxious, feeling improved mood & outlook, and feeling less discomfort from achy muscles and joints.

Including CBD decaf coffee in your daily routine can help you feel your best while also promoting more restful and rejuvenating sleep.  It's a great way to compliment your natural wellness routine.
Description

You asked for it and we listened. Sträva's Special Edition* Max Strength decaf option, with 20mg CBD per serving, offers the same great taste as our Intro Strength decaf but with significantly more CBD to help you get maximum benefit from each cup. This decaf coffee is sugarcane processed to remove the caffeine; the result is a naturally sweet and full-bodied coffee that helps you unwind from a busy day. *Note: Our Special Edition Max Strength beans and kcups don't have their own custom packaging yet so we're identifying them with a blue "Special Edition" label.

Tasting Notes & Ingredients

Sträva's decaffeinated coffee is full-bodied and smooth with tasting notes of brown sugar and mandarin orange. Ingredients: 100% Specialty Grade Colombian Arabica Coffee, Organic Broad-Spectrum Hemp Extract. Decaffeinated via Swiss Water or Natural Sugarcane Decaffeination Processes.

Independent Lab Verified

Sträva CBD coffee products are verified by independent labs and tested to be free from heavy metals, pesticides and mycotoxins. Additionally, each product master batch undergoes potency testing for cannabinoid content to ensure every product delivers consistent and accurate CBD content.
View/Download Current Report