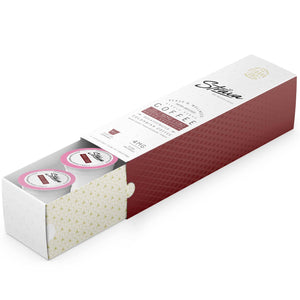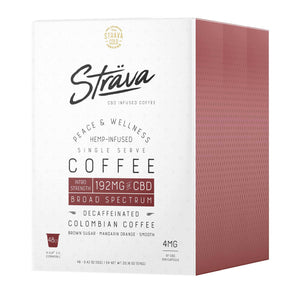 Description

You're in for a treat with this sugarcane processed decaf coffee. It's naturally sweet and full-bodied and paired with a hint of healthy, broad-spectrum CBD to make it even better. This decaf is one of the best we've ever tasted; it delivers an enjoyable and relaxing experience to those who love the taste of top-quality coffee without the caffeine. Sträva's Intro Strength decaf option, with 4mg CBD per serving, makes for a rewarding and relaxing cup of coffee no matter the time of day or night.

Tasting Notes & Ingredients

Sträva's decaffeinated coffee is full-bodied and smooth with tasting notes of brown sugar and mandarin orange. Ingredients: 100% Specialty Grade Colombian Arabica Coffee, Organic Broad-Spectrum Hemp Extract. Decaffeinated via Swiss Water or Natural Sugarcane Decaffeination Processes.

Independent Lab Verified

Sträva CBD coffee products are verified by independent labs and tested to be free from heavy metals, pesticides and mycotoxins. Additionally, each product master batch undergoes potency testing for cannabinoid content to ensure every product delivers consistent and accurate CBD content.
View/Download Current Report
All Sträva Coffee Products
CBD Coffee (K-Cups) - 4mg CBD/Serving - Decaf
4mg Broad Spectrum Hemp (CBD, CBG +) per Serving
Available in 4-packs, 12-packs, 48-packs and Eco-friendly "Naked" 50-packs
Decaf Coffee
Enjoy the fresh, bold taste of Sträva: craft roasted coffee precision infused with organic, broad spectrum hemp cannabinoids including natural CBD, CBG and more.
Intro Strength Decaf, with 4mg CBD/Serving, is a great choice for those who love their coffee but don't want the stimulation of caffeine.

Available in 4-packs, 12-packs, 48-packs and Naked 50-packs*. 
Also available in select discounted Sträva K-Cup Bundles.

*Naked option is eco-friendly packaging:  50 loose K-Cups packed in a free, reusable, organic cotton Sträva Logo Bag

Key Benefits:
CBD works with your body's endocannabinoid system to naturally promote homeostasis and overall physical and mental well-being.

In addition to great taste, common benefits may include: feeling calm and less anxious, feeling improved mood & outlook, and feeling less discomfort from achy muscles and joints.

Including CBD decaf coffee in your daily routine can help you feel your best while also promoting more restful and rejuvenating sleep.  It's a great way to compliment your natural wellness routine.
Description

You're in for a treat with this sugarcane processed decaf coffee. It's naturally sweet and full-bodied and paired with a hint of healthy, broad-spectrum CBD to make it even better. This decaf is one of the best we've ever tasted; it delivers an enjoyable and relaxing experience to those who love the taste of top-quality coffee without the caffeine. Sträva's Intro Strength decaf option, with 4mg CBD per serving, makes for a rewarding and relaxing cup of coffee no matter the time of day or night.

Tasting Notes & Ingredients

Sträva's decaffeinated coffee is full-bodied and smooth with tasting notes of brown sugar and mandarin orange. Ingredients: 100% Specialty Grade Colombian Arabica Coffee, Organic Broad-Spectrum Hemp Extract. Decaffeinated via Swiss Water or Natural Sugarcane Decaffeination Processes.

Independent Lab Verified

Sträva CBD coffee products are verified by independent labs and tested to be free from heavy metals, pesticides and mycotoxins. Additionally, each product master batch undergoes potency testing for cannabinoid content to ensure every product delivers consistent and accurate CBD content.
View/Download Current Report